Being in Love with Life Journeys
The Being In Love with Life" Happiness Journey to Bhutan October 10-25, 2023 To view itinerary and to register please connect with Sonam Dorjee Bhutan Lost Kingdom Tours Click Here.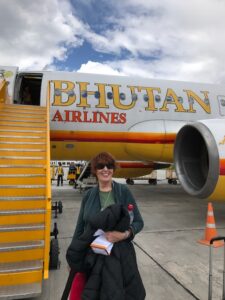 I invite you to join me for an intimate 14-day "Being in Love with Life" Journey to Bhutan. It is known as The Lost Kingdom of Happiness, and filled with mystery and magic. Bhutan is located in the Himalayas between India and the Plateau of Tibet.
On my previous journey to Bhutan, I was deeply moved and changed by their compassionate way of life. Thus, this is the title of our journey. In this largely Buddhist country, you experience the magic of a country whose people live daily with a profound respect for nature and the interdependence of all living things. This approach to life, to the Earth, to others permeates every aspect of how Bhutanese people live. It is named Drala, spiritual ecology, although Drala means interacting with nature and making every day sacred.
In Bhutan you will find:
No crime or mass killings.

The world's only carbon-negative country.

Over 70% of the country remains forested.

The only country with no traffic lights

One of the world's last countries to introduce internet and television.

Free education for all its citizens through high school.

Free health care for life.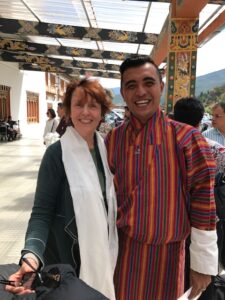 Bhutan is also in the forefront of Climate Change, serves as an international example of biodiversity. Bhutan is a recognized leader in the Happiness Biodiversity Index for the planet by the prestigious www.CampaignforNature.org and its 2030 campaign.
Our "Being in Love with Life" Journey to Bhutan begins by flying past Mt. Everest. We then land in Paro, which is the one airport in the tiny Kingdom of Bhutan. Pema Dorjee, our in-country guide, who knows all the secrets of this Kingdom of Happiness, will greet us and take us on an adventure of a lifetime. Pema will lead us through this unforgettable land of magnificent beauty, which is steeped in ancient traditions. We'll see spectacular mountain scenery and vibrant traditional music and dance festivals.
We will visit The Tiger's Nest, ( see story and picture below ), and in Thimphu, the capital city. We will take part in the Thimphu Dromche Festival, which explodes into life every fall. This festival features dancing, music, elaborate costumes, and rituals in the enormous courtyard of the Tashichho Dzong monastery and fortress.
Then, we cross over the Dochula high mountain pass (over 10,000 in elevation) where sit 108 majestic stupas—the Druk Wangyal Chortens—surrounded by awesome scenery: steep forested hills and misty mountains rising from fast-flowing rivers, and into the Phobjikha Valley and the land of the black-necked cranes. Beyond all this, we venture into the southern tropical part of Bhutan, to the city of Punakha (once the capital of Bhutan), where a special treat awaits.
There in Punakha, Pema has arranged the first of our many special events—all exclusively organized especially for "Being in Love with Life" travelers.
The highlights include:
A hot springs visit, facilitated by Lama Tshering Gyeltshen, a highly learned monk who meditated in the caves for three years and three months straight. He will perform special healing prayers and Pema will talk about the benefits of this hot springs. We will walk in the lush forests and view the traditional Bhutanese houses and fields.
An evening "Celebrate Happiness" performance at the Thimpu Royal Performing Arts auditorium with Sandra McKnight and local Bhutan singers, dancers, and musicians.
An evening dinner with Bhutan Dignitaries (to be determined) and an opportunity to ask questions about the Gross National Happiness policy of Bhutan.
An informative talk on the special healing herbs of Bhutan by Sonam Dorje, doctor of herbology  at the prestigious Institute of Herbal Medicine. There will be an opportunity to purchase herbs as well.
A Closing Ceremony around the fire pit in the hotel in Paro. Led by Sandra.
In addition, Sandra will facilitate a conversation on the day's events during dinner as we arrive in each city. Each traveler will receive a "Being in Love with Life" journal to record their thoughts and feelings. And Sandra will hold a Zoom meeting for all travelers to say hello before we all meet in Bangkok.
During our journey together we will be stopping in ancient monasteries, many of which are still active, and visiting many of the superb ancient dzongs (or fortresses, to you and me), and staying in comfortable, welcoming hotels, and eating delicious traditional foods such as Ema datsi, a Bhutanese chili cheese. We will also have available Ara, rice wine, and of course drinking Suja, a special butter tea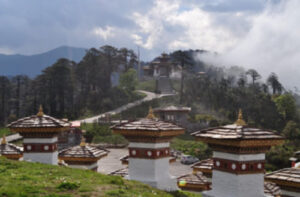 The Tiger's Nest.  Nothing is more sacred than this Taktsang Monastery, the Tiger's Nest. Built in the 1692 – at 3000m above sea level – it's a place of pure tranquility. Guru Rinpoche, the emanation of the Buddha, flew on the back of a Tigress in the 8th Century to bring Tantric Buddhism to this remote kingdom. (Guru Rinpoche may have flown here on a tigress' back, but I had to climb the many steps.)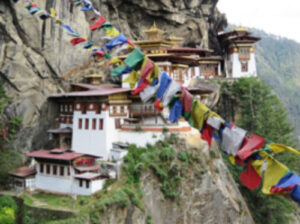 The Dochula High Mountain Pass where sit 108 Majestic Stupas
A Bit of History:
Today, 750,000 Bhutanese live in a pristine jewel-box of old-growth forests that cover 85% of the kingdom, therefore remains a primarily agricultural, rural society, where yaks and cattle occupy the one-lane "national highway."
It is here that the enlightened 4th King, Jigme Singye Wangchuck, called the Philosopher King, introduced the concept of the Gross National Happiness (GNH) Index, which is a lens through which all development is evaluated with rigor.
In the newly formed democratic government, the GNH also serves as the societal touchstone. Good governance, societal happiness, sustainable development, education, and well-being are given the highest aspirations. Gross National Happiness is the idea that spiritual and mental well-being matter as much as money, whereas material gain should not come at the expense of the environment or culture.
The Being In Love with Life" Happiness Journey to Bhutan October 10-25, 2023 To view itinerary and to register please connect with Sonam Dorjee Bhutan Lost Kingdom Tours Click Here.