"She is talented sunlight, brilliant starlight." S.G. Santa Fe, NM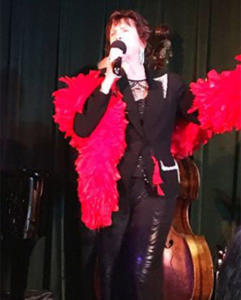 Sandra McKnight, a professional actress, singer, comic story teller has performed nationally and internationally at conventions, conferences, and cabaret rooms, with her one-woman shows, "Oops! That's Life!" and "Sexy & Sassy Sandra McKnight Brings Back Vaudeville Live and currently her "Celebrate Happiness Road Show.
Ten years ago, Sandra began exploring the ideas of authors such as Bruce Lipton, "The Biology of Belief", Dr. Joe Dispenza's, and "Becoming Super Natural" and created the "Celebrate Happiness Roadshow", an uninhibited exploration of Happiness, Love and Compassion with plenty of audience interaction.
Sandra truly believes that most humans are born happy and want to live a happy, loving and peaceful life. Therefore The Celebrate Happiness Roadshow is about motivating people to do more of what makes them happy, others happy and the world a happier place to live: a world that nurtures the earth, nature and all living sentient beings.
Sandra has also traveled to Bhutan a largely a Buddhist country called the Kingdom of Happiness and located between India and the Plain of Tibet. There the democratic government calculates the Gross National Happiness of their people. It is a place of great beauty, free education and health care for all, 90% carbon free, and no guns or violence. Sandra returned with many stories and more dedicated than ever to raising the consciousness around "living happiness" every day.
Most recently Sandra performed at Society Cabaret in San Francisco and for many women's conferences and conventions in the US. Her vaudeville songs were performed at Vanessies of Santa Fe, and she produced and performed in a singing cabaret act for La Posada Hotel in Santa Fe.
She performed in New York City and Los Angeles for over 20 years, and her career includes appearances in live theater performances or network and cable TV programs, many of which enjoy international syndication: " The Young and the Restless," "Lou Grant," "Bold and the Beautiful," "Divorce Court," and in the principal role of Nora Phillips on "General Hospital."  She made more than 250 commercials and received a CLIO award in that medium.
Her talents have been seen and heard in many voice-overs, a vaudeville comedy act in Sacramento, as a professional dancer in San Francisco nightclubs, modern dance troupes and musical comedies. She performed and taught comedy improvisation in Chicago, Dallas and Santa Fe, and was a US Representative for the International Theater Institute for a tour of European performance venues.
Sandra studied acting in New York with Lee Strasberg, Uta Hagen, and Jose Quintero, and singing with Richard Fredericks of New York City Opera and the speaking voice at the Juilliard School in NYC. She studied improvisation with Paul Sills, at the Second City in Chicago, and dance with Luigi NYC Jazz Center, the Harkness Ballet in NYC, and the Shawl-Anderson Modern Dance Center in Berkeley, California. Her professional associations are: SAG-AFTRA AEA, AGVA,
Sandra McKnight also has long career as a voice/communication coach and founder of Voice Power Studios, www.voicepowerstudios.com located in Santa Fe, NM and San Francisco, Calif. Voice Power Studios offers Executive Speaking Skills internationally.  Her humorous keynote speeches on "Charismatic Communication", "Your Voice Is Power in Business" and "All the World is a Stage!" have been heard worldwide.
She hosted and produced the popular Santa Fe radio show, "The Sounds of Success," and as a voice expert has been the guest on many national radio call-in programs and podcasts. "Your Voice Is Power in Business" program has been featured in the Wall Street Journal and numerous newspapers around the country. She was adjunct faculty for University of New Mexico, and The Santa Fe Community College, NM, for 10 years. Her corporate clients include Intel, Northrop Grumman, Microsoft, Comcast, The Navajo Nation, USC, and in Hong Kong,  British Petroleum, Ernst and Young, Management Development Centre.